Concrete Driveway Pavers and other Landscaping Uses for Concrete
We want you to visualize and understand your landscape investment in advance.
The approach to your home or store front introduces others to you. Correct use, installation, and maintenance of your concrete is an important aspect of your properties' curb appeal. Concrete paving has almost endless applications for residential and commercial properties. View our recent driveway of pavers project. Our years of experience and hands-on knowledge will give you the look you want and quality that lasts.
Concrete Steps with Sidewalk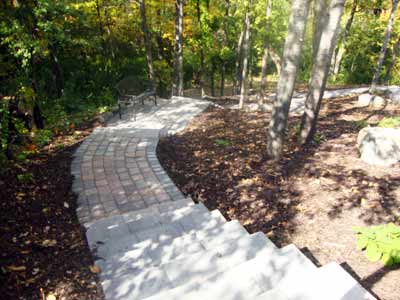 Designed durable walkways are an enhancement to any home. Whether they're straight or curved, walkways define your yard and edge your landscaping. We install decorative concrete including exposed aggregate, colored exposed aggregate, stamped concrete, stenciled concrete, or add our special touch with borders or patterned insets for a finished look.
Concrete Driveways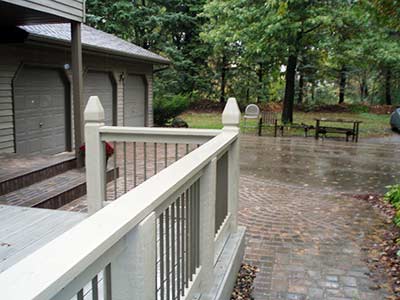 We work with every client to ensure the job is done right, done on time, and on budget. We pour all of our driveways with a 4,500psi mix of either granite of flagstone complete with wire mesh and steel rebar for added strength and re-enforcement. Our careful preparation work will leave you at ease without worry about the heavy weight of trucks and equipment.
Concrete Steps and Stoop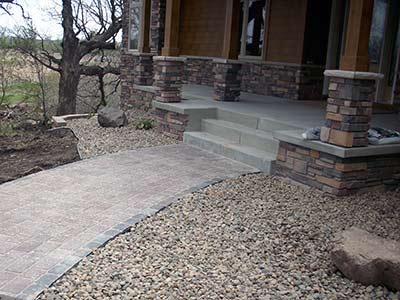 Edge your sidewalks, patios, or flower beds with pavers for easier lawn mowing. Any size or shape is possible with concrete pavers. Our creative paver landscape designs expertly combine raw materials, function, and curb appeal. We will discuss and educate you on each technique so you may determine which paver build best fits your landscaping project.
Our experienced concrete crews will expertly handle all your concrete paving needs. Fredrickson Lawn And Landscape can be trusted to care for any commercial and residential outdoor concrete paving project. Fredrickson Lawn And Landscape serves the entire Twin Cities and South Metro area of Apple Valley, Burnsville, Credit River, Lakeville, Eagan, Elko New Market, Farmington, Bloomington, Prior Lake, Savage, Shakopee, Rosemount Minnesota and the surrounding communities.
Request a FREE consultation and gain the benefits of a concrete paver driveway done with quality that lasts.